Good Day! First off, thank you all for your support in the upcoming TGF paper line. I was very excited and thrilled that you approve. LOL. I do have a meeting in regards to it today so fingers crossed, it goes well. If all goes as planned I can give away some free samples. Free is always good. =)
Also you'll notice in the right sidebar there is a link to a chatroom. I'm testing this out and not sure if it will remain public but I think it's a great way for everyone to interact and just say hi. =) I'll try to be on around 9:00am MST.
Thought I'd start the day with cards featuring our latest stamps!


Here are gorgeous little fairy cards by Faith!



The cutest little squirrels by Elena! Wonder what they're chatting about? How to split the acorn? LOL.



More pixie lovin' by Cheryl! And a sweet little doe! Cheryl has been a magical card factory lately. Look at all her cute little creations!



And I'll end today's lineup with this barnyard of cuteness by Heather! I love the scene! Totally fantastic! And ok is the shell and the mermaid genius or what? hahaha. Splendid.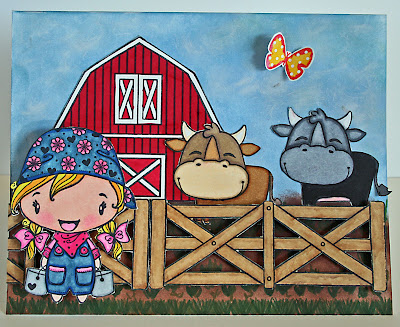 Yesterday I was unexpectedly out of office for almost the whole day so if you've sent me an email and I haven't responded, I will do so this morning! Come back tomorrow to meet the new Gardeners for Spring! Have a great one!



Today's question is:

What's your favorite pasttime? (not including stamping, since that's a given. haha.)

Besides drawing, I like to knit/crochet. And as I'm doing that I'm thinking of things to draw. hahahahaha.