Hello! Did everyone have a nice weekend? I hope so. It was very nice for me and a good kind of crazy on Saturday. haha. I did put some more Miss Anya in so if you missed her on Saturday, grab her while you can. Pretty short entry today, just mostly awesome cards.
Today's card lineup include some Valentine cards that I received over the weekend. I realize I hadn't put up much cards the past few days so here they are!

This super cute card was made by Janna. I love the composition and the colors on this card. And the little charm is adorable!



Ok do you all love this card or what?! By the all talented Nancy! Beautiful coloring as always and the outfit is too cute! BTW, Nancy has a cute little English Bulldog that this puppy was designed after named Muffin!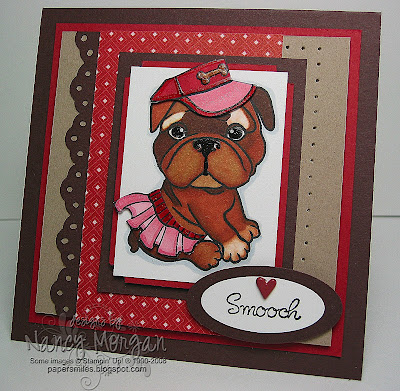 Mary made this adorable Pretty Hat Anya card with soft colors and floral DP! Super sweet!



Ooooh Hello Miss Anya! The hues on this card is amazing! Elena did a beautiful job as always!



This adorable little Princess Anya Gift Bag is by Marti! This would be such a cute sack to put birthday goodies in or anything really.



Maria sent in this sweetheart of a card! Princess Anya looks her best in her favorite pink dress and that lacey heart!



Look at the colors of this card!!! It's amazing!!! It's beautiful! Perfection by Jacquie.



This is

Kelly

's first Anya! Woo hoo! Blue and brown, my 2nd fave combo next to pink and brown! Very awesome DP as well1

Oh and this week we have Farmer's Market on Thursday so that's something to look forward to! =) Have a great day!
Today's question is: You're feeling pretty adventurous and daring today, and decide to be spontaneous! You:
a.
Go sky diving! Nothing beats falling out of a plane thousands of miles up.
b.
Go scuba diving! Perhaps you'll see a dolphin and swim with it.
c.
Go rock climbing! Cuz you love getting dirty and hanging off at the end of a tiny rope.
d.
Try a super complicated recipe that you've been meaning to try.
e.
Decide today will be a non-stamping day.
Oooh I guess I would try a new recipe. haha since I can't really swim and am a little afraid of heights.