Hi Friends! Today we've got lotsa cards to show. Also in regards to the Fashion Show challenge, yes you can use the digi Anyas! Ok so let's start viewing!

Elena really loves this set! And I can see why! Here is Anya and Ian in their casual play wear. So cute! And I love the layout on these!



Jessica D did this one of Pretty Hat Anya. I looove the colors. It's such a pretty color! and look at the pearls on her necklace!!!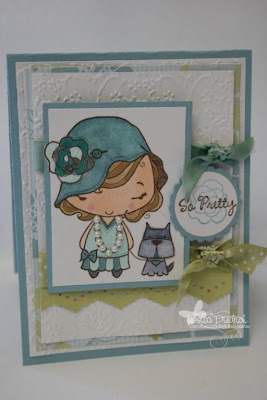 I can never get enough of stacked animals. This uber cute one is from Dawn Knight and it definitely made me smile. Too cute!



Snooping around on Jenn's blog rewarded me with these two cuties! Just beautiful!



Another cutesy valentine from Pam! Loving the layers and the mixture of stripes and dots! This is from the Panda Friends set.



Yayyy mouse butts! These super adorable cards are by Jenn M! Too cute for words!



And lastly, a very very sweet creation by Chalsie! Oh Ian! You steal my heart!

YEAH! I'm totally ready for Valentines! lol! Have a great day everyone! Have fun and be inspired!



Today's question is

: Do you sell your cards, give them away, or keep them?

I give mine away and I also have a bunch that I keep for show. haha.